First Reconciliation
Together in Jesus is the text for our 2nd grade and above.
 
First Reconciliation preparation calls children to begin a lifelong conversion to Jesus and his way of living.The aim is to help young children distinguish loving from unloving actions.It teaches the children the Ten Commandments and the teachings of Jesusbased on his Sermon on the Mount (Matthew 5 – 6). Six themes help young children recognize that they are members of the Church: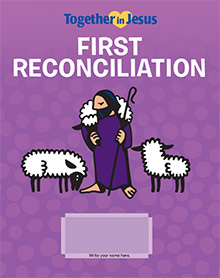 Belonging to a loving community
Keeping the Ten Commandments
Acting like Jesus
Learning to forgive
Receiving the Holy Spirit
Celebrating the Sacrament of Reconciliation 
First Euchraist & Confirmation
Together in Jesus is the text for 3rd grade and above.* 
Eight lessons for Confirmation and first Eucharist are combined to restore the order in which children receive the sacraments of initiation. 
I belong to a loving community.
I prepare for confirmation. 
What happens in Confirmation. 
Our community remembers Jesus. 
Jesu gathers people together. 
Jesus special supper. 
Our community shares a meal. 
My first Eucharist book. 
* In the Diocese of Phoenix, Confirmation and First Eucharist are taught together.